Title on all wine passes to the buyer at the time of purchase in the state of California. If you require that your wine be shipped, you authorize Bay Grape LLC to engage a common carrier to deliver the wine on your behalf. IF YOU CHOOSE TO SHIP YOUR WINE TO A NON-RECIPROCAL STATE, YOU ASSUME ALL RESPONSIBILITY FOR COMPLYING WITH YOUR STATE'S LAWS REGARDING ALCOHOL SHIPMENTS.

You must be 21 years of age to order or receive alcoholic beverages from Bay Grape LLC. Any shipments containing alcoholic beverages are sent with an "Adult Signature Required" sticker, and the common carrier that delivers our merchandise is required to ask and check for identification upon delivery. This means that you will have to be present at the time of delivery.

Because we have no control over the temperature conditions at any 3rd party carriers' warehouses, we always attempt to deliver wines to our 3rd party carrier at the beginning of each week so that you can receive your wine before the weekend. As a result, your wine may not be delivered to our 3rd party carrier the day that you place your order. Please understand that during business hours, your orders are immediately packaged and scheduled for delivery, but may be delayed until ideal conditions for shipment arise. You are reminded that various states impose limitations on the quantity of alcoholic beverages which may be purchased and brought into their jurisdiction without requiring the purchaser, the seller or the shipper to possess certain licenses or permits. Bay Grape LLC does NOT, as a condition of sale, assume any obligation nor bear any responsibility whatsoever for applying for or obtaining any such permits or licenses. Therefore, you are strongly advised to investigate such limitations and to determine the manner in which alcoholic beverages may lawfully be brought into states other than California. You are responsible for all applicable excise, use and sales taxes due to your state related to the purchase of any taxable goods.

Bay Grape LLC makes no representation to the legal rights of anyone to ship or import wines into any state outside of California. The Buyer is solely responsible for the shipment of wines and is responsible for any loss or damage to goods once they have left our premises. By placing an order, you authorize Bay Grape LLC to act on your behalf to engage a common carrier to deliver your order to you.
Complant Soberanes Vineyard Pinot Noir Santa Lucia Highlands 2019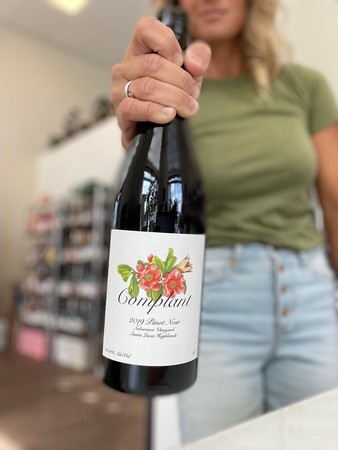 Wine Specs
Appellation
Santa Lucia Highlands
THE reason California Pinot Noir is the bombshell babe it is: all souped up with juicy, ripe red fruits and the freshest pop of brightening acidity to keep you coming back for more and more and more.
Low key insider perspective: Complant may be THE most gorgeous, up-and-coming but with serious street-cred Napa-based label that you should tune into. We taste a lot of wine. Especially a lot of California Chard, Pinot and Cab. Much of it is $$$ without the stuff that makes us go Mmmm. The wines can feel like they were following a recipe made with precision but no love. NOT Complant. Made by father Dan and son Sam Baron, these are pedigreed stunners that compel sip after sip and make your jaw drop. You'll especially be in awe when you realize their luminous resumes (ahem Dan's includes Petrus, Dominus, Silver Oak; Sam's peers are Martha Stoumen, Les Lunes, and he also makes the wine at Kivelstadt). Never minding all that, Dan and Sam will show their wines to you casually, like they're no big deal, instead opting to talk family tattoo art or their recent podcast guests, and debate sustainability initiatives or the merits of physiological pruning. These folks are Napa gems with wines as quietly gorgeous as they come.
Wine Specs
Appellation
Santa Lucia Highlands